Free Ebook
Malaysia Payroll Guide 2022
A detailed guide to managing Malaysia payroll updated with year 2022 statutory updates and regulations.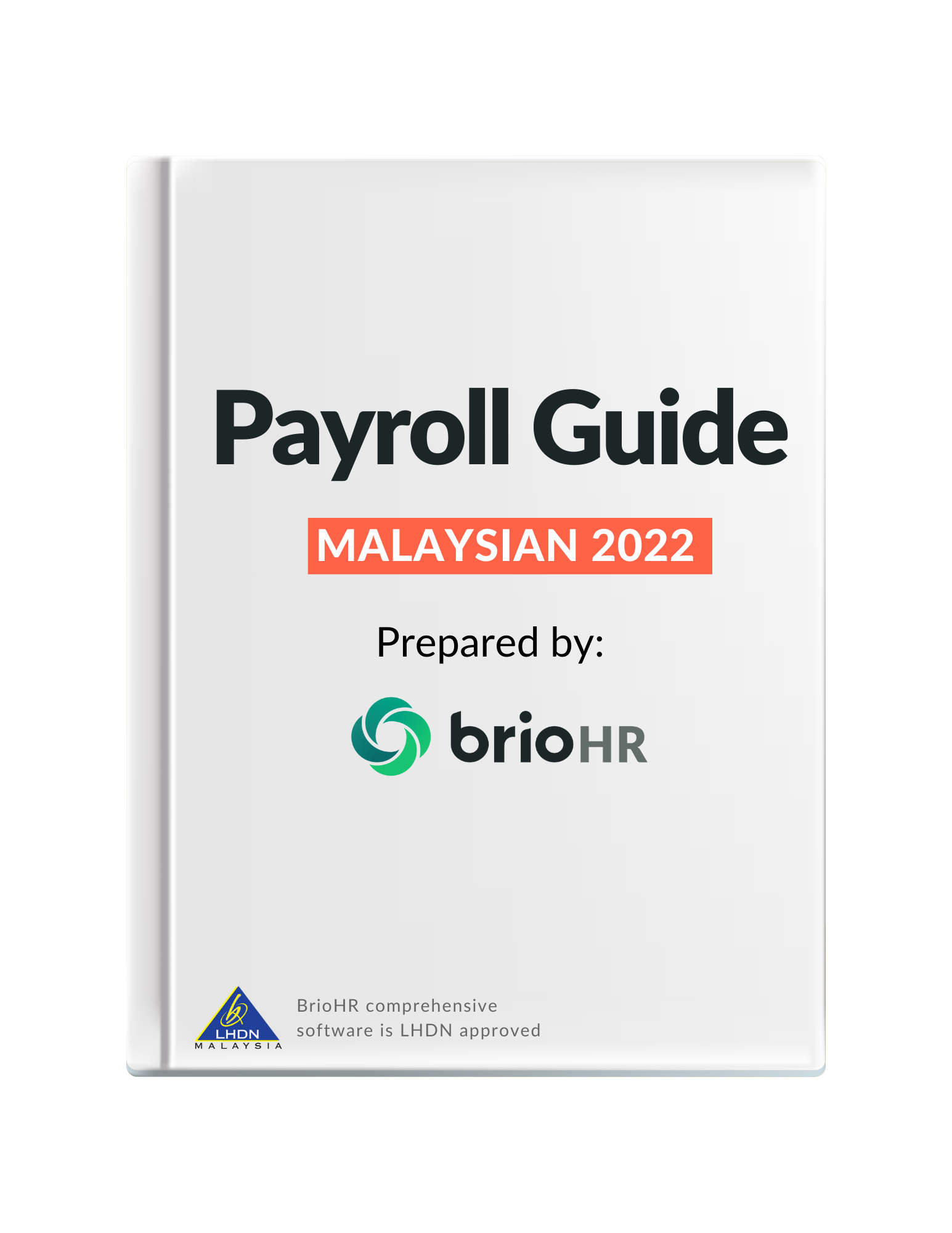 By completing this ebook, you will:
✅
Employee and employer information you need before running payroll.
✅
Understanding Malaysia different types of employment.
✅
UnderstandingMalaysia different types of remuneration.
✅
Sample of remuneration calculation.
✅
Understanding Malaysia different types of deductions with sample calculation.
✅
Latest statutory updates according to Budget 2022.
1000+ companies trust BrioHR to enhance their payroll processes

More about this ebook:
It can be challenging running your first payroll without guidance or utilizing tools such as payroll software to enhance your payroll process. Even if you've been running payroll throughout your career, yearly statutory changes are something you cannot be missed. For example, EIS increased the maximum of employee and employer contributions from RM8 to RM10 according to confirmation from Budget 2022 not long ago.

To help you get started, we put a detailed payroll guide specifically for Malaysia employers to kickstart your payroll journey. By finishing this detailed payroll guide, you will have a comprehensive understanding of the fundamental of the Malaysia payroll process with knowledge of the latest Malaysia statutory compliance requirements.

We hope that all this precious information gathered by our payroll experts will adequately equip you to run your monthly payroll smoothly with accurate calculations on income tax, SOCSO, EIS, and more.
What is BrioHR?
Recognized as the most comprehensive and user-friendly all-in-one HR software, Automate admin tasks and engage your employees for maximum productivity.
BrioHR modules covers the full employee journey from talent acquisition (recruitment and onboarding) to admin automation (payroll, leave management, employee file, expense claims, timesheets, reporting), as well as performance management (appraisal, 1-on-1, 360 feedback, competency framework).
Is this ebook really free?
Absolutely yes! We love to share free knowledge that we hope you'll find useful. Just keep us in mind next time you have HR related questions.
Why do I need a payroll software?
Using payroll software will save you time and avoid human errors. The software auto-calculates payroll accurately while helping your business stay compliant with the Malaysian taxing authority and prevent any mistakes.
Can I know more about BrioHR software?
Definitely! Our friendly team will be more than happy to walk you through BrioHR's comprehensive platform and how it can help to enhance your current HR processes.

Feel free to visit https://briohr.com/demo/ and book a free demo.