Free Ebook
Malaysia Payroll Guide 2023
Download this detailed guide to managing payroll in Malaysia today, for free! Now updated with statutory updates and regulations for 2023, including Budget 2023 updates.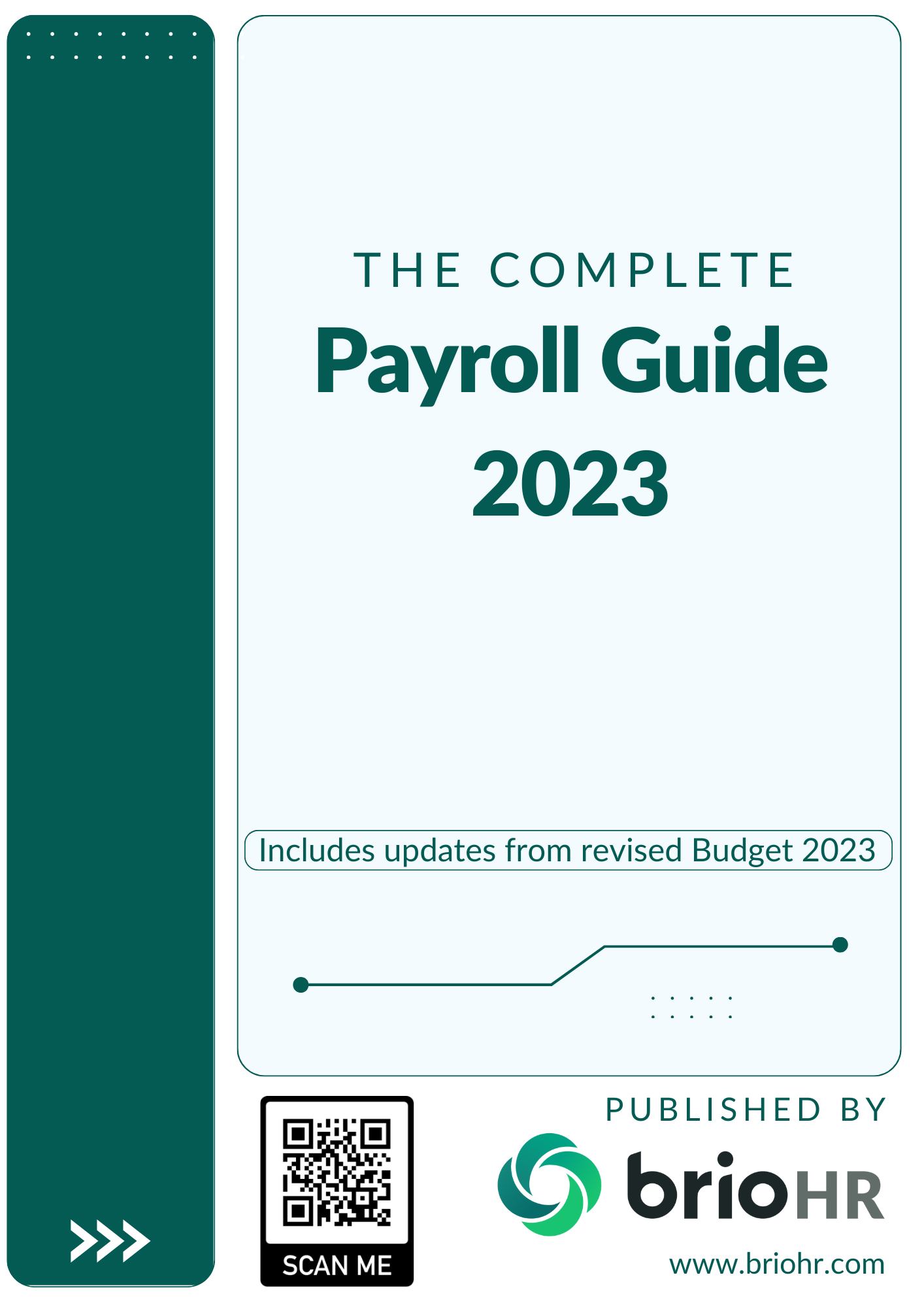 In this ebook, you will get:
✅
Employee and employer information you need before running payroll.
✅
Understanding employment and payroll cycles in Malaysia.
✅
Understanding remuneration in Malaysia.
✅
A walkthrough of Malaysia's statutory deductions with sample calculations.
✅
Latest statutory updates according to the revised Budget 2023.
1000+ companies trust BrioHR to enhance their payroll processes

About BrioHR's Payroll Guide:
It can be challenging running your first payroll without guidance, or without utilizing tools such as HR software to enhance your payroll process. Even if you've been running payroll throughout your career, it's good to have a refresher every now and then.
Plus, yearly statutory changes are something you cannot miss. For example, the revised Budget 2023 includes changes to individual tax rates effective assessment year 2023. This will affect employees' PCB.

To help you, we put together a detailed payroll guide specifically for Malaysian employers to kickstart your payroll journey. By using this detailed payroll guide, you will gain an understanding of the fundamentals of the payroll process in Malaysia. You will also be equipped with knowledge of the latest statutory compliance requirements in Malaysia.

We hope that this guide compiled by our payroll experts will help you to run your monthly payroll more smoothly. Don't be scared of acronyms like EPF, SOCSO, EIS, or PCB any longer!
What is BrioHR?
BrioHR is cloud-based software that simplifies all of your HR processes.

With a secure, scalable platform, BrioHR covers the entire employee journey from recruitment to onboarding, payroll and claims, to performance and analytics, and more.

BrioHR is also maintained by a community of experts to customize and support your HR processes.

This enables business owners and HR teams to truly focus on what matters most – people.
Is this ebook really free?
Absolutely! Knowledge like this should not be kept behind a paywall, especially when it concerns employees' livelihoods. Just keep us in mind next time you have HR related questions.
Why do I need payroll software?
Using payroll software will save you time and avoid human errors. The software auto-calculates payroll accurately while helping your business stay compliant with Malaysian statutory regulations.
Can I know more about BrioHR?
Definitely! Our friendly team will be more than happy to walk you through BrioHR's comprehensive platform and how it can help to enhance your current HR processes.

Feel free to visit https://briohr.com/demo/ and book a free demo.